The dominant story in the real estate industry last week was the drop in interest rates on mortgages. The timing for many is welcome i.e. the beginning of the traditional spring selling season. While I can advise yes lower interest rates may make a transaction more palatable with a lower monthly payment I would be remiss not to mention lower interest rates usually signal an economy that may be challenged in the foreseeable future. In economic principles lower interest rates are considered a tool to increase economic activity. In addition while housing prices have stabilized and in many markets adjusting downward many believe housing prices are still inflated overall.
The above brings me to the topic of not only interest rates but also the timing of the market. In a conversation with my CPA last week we discussed how so many seem to have forgotten about the Great Recession. It was not that long ago when distressed properties dominated the MLS, short-sales were common, credit scores were dropping and homeowners were literally walking away from their homes knowing what they owned on their mortgages far exceeded the present value of the home.
Which brings me to today's blog. A lovely home in tony Cherry Hills Village just came on the market. Located in Old Cherry Hills, the 8,100-square-foot residence and guest house (above the 5-car garage) is located at 1120 E. Tufts Avenue. The home is listed at $4.5 million ($778.28 PSF above grade), by Cherry Hills standards while not the most expensive, not a bargain either. At present there are 37 active listings within Cherry Hills Village ranging from $900,000 to $22,000,000, the Medain PSF above grade asking is $492.98):
The 7-bed, 9-bath residence is just over 8,100 square feet and sits on 1.28 acres. The 1,600-square-foot basement features a home theater, bedroom and bathroom. All seven bedrooms have bathrooms en suite, and the master suite boasts a balcony overlooking the property.The two-story home is surrounded by a professionally landscaped backyard complete with an orchard, vegetable gardens and a pool pavilion.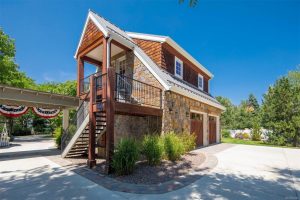 As mentioned there is a one-bed, one-bath guest house with a kitchenette and its own fireplace atop the five-car garage.
I am a bit of a statistician and when looking at real estate I try to take the emotion out of the equation. My feeling is a residence's value should at minimum keep up with inflation; any gain beyond is icing on the cake. Yes there are limited various tax advantages yet also costs concerning maintenance and upkeep of a residence. Of course pride of ownership may trump all the perceived challenges of home ownership (and of note a wise person once said "If you have a mortgage you do not own the home, the bank does").
Back to the residence on the market. Trust me if I hit Powerball I am a potential buyer. Yet how did the sellers financially on the house during their tenure of ownership?
The owners of record paid $3.96M for the home in 2006.
The asking in 2019 is $4.5M. On its face a potential profit of $540,000.
Impressive over 13 years or $41,000/year gain during ownership.
Yet let's consider the following. Even if the seller sells for $4,500,000 when one factors in commission of 6% and Closing Costs of approximately $10,000 the net to seller is $4,220,000, still an impressive gain.
However, the $3,960,000 paid in 2006 when adjusted for inflation is $4,965,000 in 2019 Dollars or $465,000 below thr asking which equals an average home in Metro Denver. Thus the home did NOT keep up with inflation.
Now let's assume the seller had a mortgage and placed 20% down on the purchase price. Of note in 2006 mortgage interest rates were at a 4-year high with the average 30-yr rate at 6.75%, or 3.75% higher than rates quoted last week. The Principal/Interest/Taxes and Insurance (PITI) on the $3,168,000 would exceed $22,000/month! High mortgage interest rates usually signal a strong economy and in 2006 the national economy was booming as few would have believed two years later the economy will go into the worst downturn since the Great Depression of the 1930's.
For the prospective buyer concerning potential write-offs; real estate taxes as of 2019 can only be deducted up to $10,000. The real estate taxes on the residence for 2017 were $24,472.
The message here is: I assume the sellers when purchasing their dream home in 2006 assumed their home would only increase in monetary value, their mortgage rate (assuming they obtained a mortgage) was within expectations and even at 6.75% was half of the rate of the early 1990's. Overall a positive investment of both capital and lifestyle. At asking of $4.5M the seller will profit slightly yet when reviewing the 13 years of ownership, the residence was a financial loss in terms of inflation adjusted dollars. 
A home should first and foremost be considered shelter not an investment. I am worried with the sudden downturn concerning mortgage interest rates of last week; are buyers purchasing based on a monthly payment in a still inflated housing market versus sound financial judgement and future wealth aspirations.